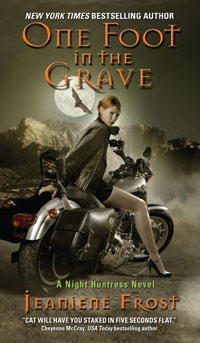 One Foot in the Grave
by
Jeaniene Frost
Goodreads summary:
You can run from the grave, but you can't hide . . .
Half-vampire Cat Crawfield is now Special Agent Cat Crawfield, working for the government to rid the world of the rogue undead. She's still using everything Bones, her sexy and dangerous ex, taught her, but when Cat is targeted for assassination, the only man who can help her is the vampire she left behind.
Being around him awakens all her emotions, from the adrenaline kick of slaying vamps side by side to the reckless passion that consumed them. But a price on her head—wanted: dead or half-alive—means her survival depends on teaming up with Bones. And no matter how hard she tries to keep things professional between them, she'll find that desire lasts forever . . . and that Bones won't let her get away again.
My rating:
5 of 5 stars
My thoughts:
I really didn't want to stop by here to write a review....I wanted to start the next book right away but I should do this now.
The ending of the first book surprised me to say the least. I didn't know exactly what to expect(that was for the first time I read the series, I'm just re-reading them now so I can write reviews for them) and the beginning of this book surprised me even more.
Four years later than the first book and the characters were bound to be different.
The was a beautiful mix of love, hate, fights, sex, more fights, lots of jealousy and it was so much fun to read again. I had forgotten some of the details about this book.
It all came back to me with every next chapter. All the love I have for the characters and for the story.
I don't want to write a review where I'll just tell you what happens, I want to write something that will make you read this book because it's that good.
I'm not an expert in how a book should be written but this one has the right speed. It's not too fast, it's not too slow, everything happened when it was supposed to and that made it really easy book to read and enjoy.
I have said it before in my reviews that I hate that I can't express my feeling because my English vocabulary isn't very good and I keep thing simple...
The story itself is really compelling and exiting. I personally couldn't stop myself from reading it even though I had important work to do. Like I said, It's just that good and it would be a shame not to read it.
I give it five stars and they are well deserved!
View all my reviews