Hey, guys....
So I found this giveaway today and I just had to share. It's a LC's 1000 followers giveaway and the prizes are awesome. There are a few prize packs to chose from and there are going to be 2 winners.. First will win all 3 books from the prize pack and the second will get to choose 1 book from a prize pack... It's international, as long as the Book Depository ships free to your country, and it'll run 'til December 1st. There are up to 24 entries for this giveaway and only one is mandatory..
It's really cool giveaway so go to this blog post: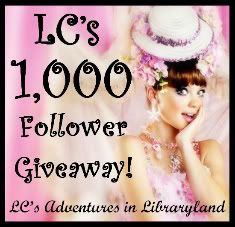 to enter and leave a comment to congratulate the blog owner...To enter the giveaway scroll to the end of the post and there you'll find a link to the entry form.
That's it for now..
Marti