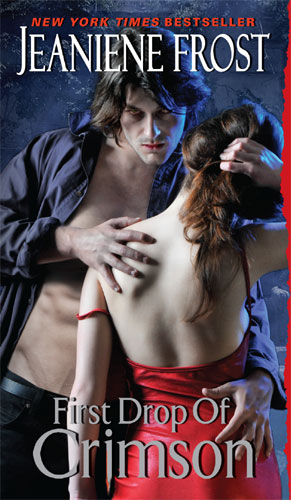 First Drop of Crimson
by
Jeaniene Frost
Goodreads Summary:
From the
New York Times
bestselling author of the Night Huntress series comes a breathtaking new journey to the dark side of desire.
The night is not safe for mortals. Denise MacGregor knows all too well what lurks in the shadows—her best friend is half-vampire Cat Crawfield—and she has already lost more than the average human could bear. But her family's past is wrapped in secrets and shrouded in darkness—and a demon shapeshifter has marked Denise as prey. Now her survival depends on an immortal who lusts for a taste of her.
He is Spade, a powerful, mysterious vampire who has walked the earth for centuries and is now duty-bound to protect this endangered, alluring human—even if it means destroying his own kind. Denise may arouse his deepest hungers, but Spade knows he must fight his urge to have her as they face the nightmare together . . .
Because once the first crimson drop falls, they will both be lost.
My rating:
4 .5 of 5 stars
My thoughts:
I just finished the first book in the Night Huntress World series. That's the spin off series of the Night Huntress series and the first book is called "First Drop of Crimson".
The books are about side characters from the main story and the first book was really good.
It's about Denise, Cat's best friend, and Baron Charles DeMortimer a.k.a. Spade(also Bones's best friend).
After the terrible events in the fourth book third book, the war with Parta, Denise is still recovering from losing her husband, when new trouble knocks on her door. Since this book is happening right after the fourth book in the original story, Bones and Cat are in New Zealand(I think that was where they were...) and with their phones no longer connected, the only person she get's a hold on is Spade.
The story starts in a normal pace and we get to read more and more about the characters. The spin off gives is the chance to get to know the side characters in from the main story.
We learned a good part of Spade's life before and after he was changed. There was a lot about him we didn't know. Right in front of our eyes, form a very powerful vampire he turned into a very passionate lover, ready to sacrifice himself for those he loves. There is this new side of the vampire we meet and that's the really , really possessive part of him. A few times I was a bit irritated by his possessiveness and the way he was deciding what Denise would do. Not that any of those thing could have happened without her permission but still...
That's part of him left aside, he is very gentle and noble ...well like you would expect a Baron will be (since his father was an Earl of something... :D that was the title the oldest son gets before he inherits his fathers title...). He was amazing and while he had a few problems of his own he handled Denise's situation with as much grace as possible, until he fell in love with her.
I know it's a spoiler but come on. Who didn't see that coming ones they saw the characters..?
We basically didn't know anything about Denise and I'm not sure there was much to know about her. I didn't notice any deep and awful memories from her past( excluding Randy's death), however she turned out to be really stubborn woman. She was put in quite bad situation and it was really interesting to read about how she handled it.
It was quite the funny pairing the author gave us. She mixed two so different people with similar faiths.
I enjoyed the break from Cat and Bones but by the end of this book I had already started missing their thoughts and their point of view (even though they where in the book for awhile...).
This book was interesting and different and it showed is another side from the world we were getting to know from the main series. Different creatures and new powers.
It was great and I gave it 4 and a half stars...There were some parts that I didn't like very much and that's why I won't give it 5 stars...
Now I'm excited to read the second book from the spin off series which is about Mencheres.
Well that's pretty much it for the book. I hope you like it!
View all my reviews