Goodreads summary: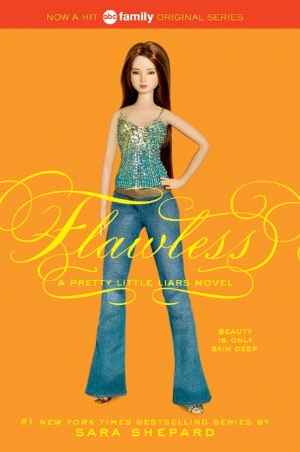 In the exclusive town of Rosewood, Pennsylvania, where the sweetest smiles hide the darkest secrets, four pretty little liars--Spencer, Aria, Emily, and Hanna--have been very bad girls. . . .
Spencer stole her sister's boyfriend. Aria is brokenhearted over her English teacher. Emily likes her new friend Maya . . . as much more than a friend. And Hanna's obsession with looking flawless is literally making her sick. But the most horrible secret of all is something so scandalous it could destroy their perfect little lives.
And someone named "A" is threatening to do just that.
At first they thought A was Alison, their friend who vanished three years ago . . . but then Alison turned up dead. So could A be Melissa, Spencer's ultracompetitive sister? Or Maya, who wants Emily all to herself? What about Toby, the mysterious guy who left town right after Alison went missing?
One thing's for certain: A's got the dirt to bury them all alive, and with every crumpled note, wicked IM, and vindictive text message A sends, the girls get a little closer to losing it all.
Okay... book two. That was interesting. At least the ending was. At first things were kind of slow for me, or it was just the fact that I've already read it. But then again even then I was very interested in what will happen next because I was missing some very important details. At some point I realized that I have no idea what is coming and that's when things picked up.
The last few chapters were action-packed an I was at the edge of my seat the whole time. I guess I'm used to knowing what happens in the TV series but I completely forgot that things are so different.
The ending blew me away! I can't believe I forgot this. I mean,... it's crazy that it slipped my mind. I really don't know what to expect anymore. I'm just happy that I don't remember so I could enjoy the story again.
I feel that excitement, like the fist time I read the books and I can't wait to go through them again.
I can't wait for the girls to find the next clue, to have their next suspect... who is the next one they'll think is A? Who is A?
It's a crazy cycle of questions but that's the best part of the book. I really, really enjoyed the ending and I loved the note from A. I can't wait to read what happens next.
In this one the characters are growing into something more complex. There are new secrets we get to learn and a few buried memories emerge from the depths of the girl's minds...
I'm off to read book three!
I give it:
Until the next time,