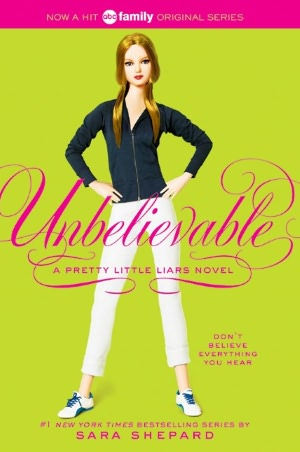 Goodreads summary:
Behind Rosewood's grand facades, where the air smells like apples and Chanel No. 5 and infinity pools sparkle in landscaped backyards, nothing is as it seems. It was here, back in seventh grade, that five best friends shared everything--Seven jeans, MAC makeup, and their deepest, darkest secrets. For Aria, Spencer, Hanna, and Emily, it was a dream come true . . . until Alison, the most beautiful of them all, suddenly vanished.
Now someone named A has turned their charmed lives into a living nightmare. Emily has been shipped off to her hyper-conservative cousins in Iowa. Aria is stuck living with her dad and his home-wrecker girlfriend. And Spencer fears she had something to do with Alison's murder. But Hanna's fate is far worse than all of that--she's clinging to life in the hospital, because "she knew too much."
With A's threats turning dangerous and Ali's killer still on the loose, the girls must uncover the truth--about A, about Ali, and about what happened to Hanna--before they become A's next victims. But as they unravel Rosewood's mysteries and secrets, will it bring an end to the horror . . . or is this just the beginning?
Book 4 was even better than the previous books. There is so much going on here and so many secrets are revealed.
With the previous book ending the way it did it I was expecting that this one will start with Hanna. It was crazy to read about her after the accident. The chapters with her POV were quite interesting, while she was still in coma. Her dreams took her to strange places. Of course when she woke up she had no recollection of what happened the night of the accident and who A is.
Pretty much the whole book we were in the dark about A but there is a lot of action.
Oh it's hard to talk about it without revealing too much.
A got active toward the end of the book and that's when Aria cave in. She gave up the secret but guess what, she didn't know the half of it.
I realized that all the girls are clueless as to how much Aly hid from them. As more time passed I begin to wonder how did a 16 year old girl manipulated everyone around her so well. She adjusted every situation to benefit from it. Let's just say that A is not the first person to put a leash on the girl' neck and make them jump trough hoops, the just didn't know it when Ali was around.
If you guys read the book you'll see what I mean...
Mona said some interesting stuff that got me thinking just how many secrets did Ali have...
Everything from now on is new to me and I really look forward to reading the next book!

I give it:
See the rest of my reviews
here.
Until the next time,